Small Business Bookkeeping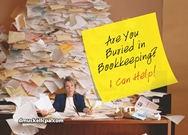 As a small business owner you have more important things to do than to keep your own books. We take care of your books for you, so you can get back to the job of running your business and generating profits!
We work collaboratively with you to decide which bookkeeping tasks you wish to perform and which tasks we will perform. In this way you can control the your own tax and accounting fees.
As a Quickbooks Proadvisor we support all Quickbooks versions however we strongly advise using one of our "cloud based bookkeeping solutions" either Our online Accounting System or Quickbooks online.
Our fixed monthly/quarterly fees are designed to fit the budgets of our small business clients. In addition you can add payroll processing for a small additional monthly fee. All our fees included unlimited tax consultation and technical support. Call today for a free consultation and fee quote - you will be glade you did !
Normally, our clients might chose to pay their own bills, generate invoices, apply customer payments, maintain a sales journal, deposit revenues, etc.. With our unlimited consulting we will answer any bookkeeping questions that come up.
Then each month or quarter we'll do the following things for you...

Bank Reconciliation
We match your bank statement balances to your checkbook, credit card or other activities to ensure that mistakes are caught and all deductions are taken. We also alert you to any important discrepancies we have found or adjustments we have made.

Review Transactions and make necessary Adjustments
We review the reasonableness of transactions, verify that adaquate support documentation exists in the Cybercabinate and make adjusting entries such as depreciation, loan amortization, physical inventory, etc..


Income Statement
An income statement, otherwise known as a profit and loss statement, basically adds all your revenues and subtracts all your expenses to come up with a profit or loss for the period.
An income statement allows you to...
Track revenues and expenses so that you can determine the operating performance of your business.
Determine what areas of your business are over-budget or under-budget.
Identify specific items that are causing unexpected expenditures. Like phone, fax, mail, or supply expenses.
Track dramatic increases in product returns or cost of goods sold as a percentage of sales.
Determine your income tax liability.


Balance Sheet
A balance sheet gives you a snapshot of your business's financial condition at a specific moment in time.
A balance sheet helps you...
Quickly get a handle on the financial strength and capabilities of your business.
Identify and analyze trends, particularly in the area of receivables and parables. For example, if your receivables cycle is lengthening, maybe you can collect your receivables more aggressively.
Determine if your business is in a position to expand.
Determine if your business can easily handle the normal financial ebbs and flows of revenues and expenses.
Determine if you need to take immediate steps to bolster cash reserves.
Balance sheets, along with income statements, are the most basic elements in providing financial reporting to potential lenders such as banks, investors, and vendors who are considering how much credit to grant you.

We are always available to spend time with you so you fully understand how to interpret and utilize your financial statements. We also provide consultations on important business decisions including business setups and incorporation, entity selection, business sales and acquisitions, retirement plans, equipment and vehicle purchases and sales and many of the other decisions you face every day.

Timely Preparation of all Payroll and Sales Tax Returns
We prepare all payroll tax and sales tax returns. These include Forms 941, MN-1, 940, MN-3, DJT-1, W-2's and 1099's. We help you avoid costly penalties and keep you out of trouble with the taxing authorities.

Tax Planning and Estimate Tax Management
We review your business and personal tax situation with you quarterly or anytime when your tax situation changes and give you tax advice. We track you estimated tax payments so there are no year end surprises on April 15th. We also send you a year-end reminder letter of actions you should take to close the year and minimize your tax burden. You can also always visit the tax tips, monthly newsletter and monthly messages sections of our website for additional tax savings ideas.